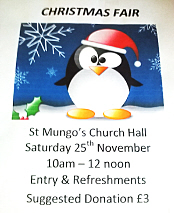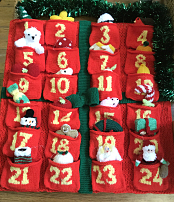 Barbara Sprott's advent calendar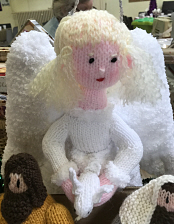 The beautiful angel carries special gift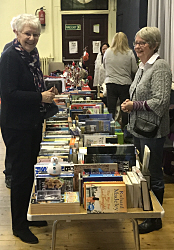 Margaret Webster searches for a new book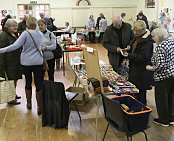 Browsing the range of Christmas novelties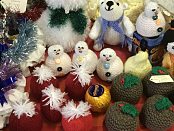 Snowmen, hats and dumpling covers.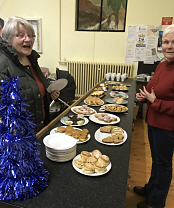 What a spread to choose from, and you could come back for 'seconds'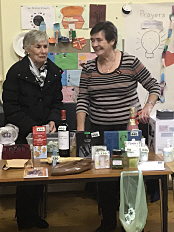 Tombola smiles if you win a prize.
Christmas Fair - 24 November 2017
Story and photos - Jim Paterson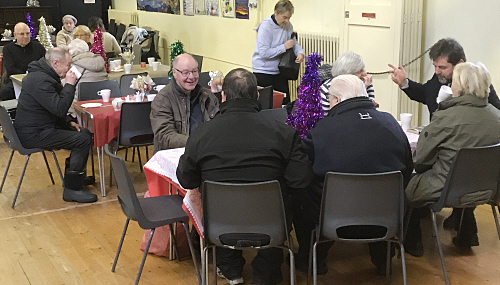 Time for refreshments and a a chat



Jack Frost had left his calling card, freezing cold with the ground snowy white, as St Mungo's opened the doors for their annual Christmas Fair. The warmth inside was welcomed by all the visitors, able to unwrap their thick coats and scarves.

The tables were filled with stalls offering all sorts of goodies, ideal as stocking fillers for that special gift.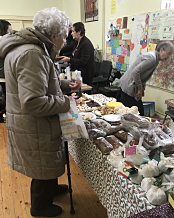 The bottle and homebaking were both attracting attention. I managed to grab my favourite fruit loaf from Joyce Hunter, who, along with Joan Cape, were selling a wide selection of cakes, loaves and other 'fancies'.

Mary Paterson and Barbara Sprott were once again on the bottle stall, and 5 tickets a pound seemed good value for a chance to win a bottle or two. Unlike last year, where I had three winning tickets, this year I had none! Better luck next year.

Agnes Ovenstone and Margaret Black, and Olive Darling were busy on the bric-a-brac, which had a selection of jigsaw puzzles, always a good filler for Christmas. These had some interesting pictures and scenes.

Marion Mather was on the Christmas stall, selling decorations and Christmas novelties, even some that lit up!

A delivery of fresh books transformed the book stall into a little 'gold mine' with lots of new titles of favourite authors. Jenny Ramage was able to pick out the 'who dun it' novels which seemed to go down well. Carole Lough was also busy helping the visitors find that special title.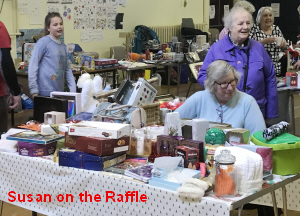 Susan Duns was running the raffle, with a steady flow of people queuing to buy tickets. No wonder, the top prizes came from the knitting pins of Barbara Sprott. With another stable scene featuring all the key players, Joseph, Mary, the three wise men, sheep, manger, and of course baby Jesus. This year she made a superb Angel to look down on the scene too. I that wasn't enough, Barbara found time to knit a complete Advent Calendar, with something special in each day pocket of the month. These were very special prizes and you needed to purchase a ticket from a special book.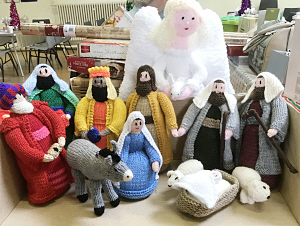 There were gifts of all shapes and sizes, and Jill Kane and Audrey Marchant had also been busy knitting, this time a selection of covers for your Christmas orange, be it a hat, a dumpling, or a snowman. My favourite was the snowman so one of those will be in my stocking.

A great selection of cakes, drop scone (or are they pancakes, I can never tell), cream scones, and the first mince pies of the season, thanks to Christine Jackson, all hand baked, were served with endless coffee or tea. The refreshment tables were full of laughter and chat as many tall stories were told and gossip exchanged.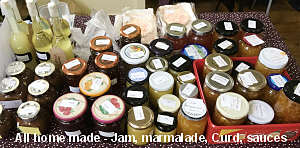 Though the date was shared with the National Day of Prayer at the South Church , their was plenty of time to visit that in the afternoon. Agnes Ovenstone was able to report a total of £822, raised for church funds, superseding last years total by £300.

Thank you to everyone who braved the cold and supported the Christmas Fair.

Who won the knitted nativity scene? Jill Kane was that lucky person. She will appreciate the work involved, being and avid knitter herself.


| | |
| --- | --- |
| Christine's Mince Pies | Carole 'what to read next' |
Published - 27 November 2017