Mungo Messenger
December Issue
out Now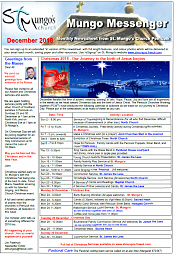 Sign up for eCopy to your email address once a month NOW

Straight to your computer or tablet. The latest newsletter (pdf copy)

Catch-up past Services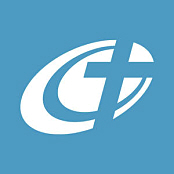 Missed a service or sermon? Then relisten to previous services on our catch-up feature. All our previous services, including last years as well, are always available for you, anytime, anywhere





Sunday Services
Morning Services start at 11.00am.



Follow Mungo on Facebook
Join our Facebook page and post your comments on St. Mungo's in Penicuik. Click on the image to visit.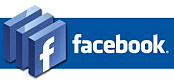 Follow Mungo on Twitter


Be first to hear about the updates and news twitter.com/@st_mungos

Christingle Service -23 Dec

Joint Churches Christingle Service on Sunday 23 December starting 11.00am
Penicuik North Church
(no service at St. Mungo's)
Guild Christmas 17 Dec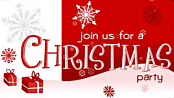 The Guild will host its Christmas lunch at the Navaar House Hotel on Monday 17th. contact Agnes Ovenstone for more information.
Christmas Eve - 24 Dec
Early Service 4.00pm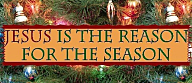 Joint Churches early evening service at 4.00pm for all those with families and small children. Join us as we prepare to welcome the Christ Child.
Watchnight 11.30pm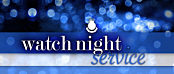 Traditional watchnight service to see celebrate the arrival of Jesus on Christmas Day.
Doors open at 11.00pm for refreshments of hot drink and mince pies. Everyone welcome
Christmas Day - 25 Dec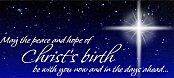 Continuing our celebration of the arrival of Jesus, a family service at St. James the Less. Starts 10.30am.
(no service at St. Mungo's)


Welcome to our Church
God's word transcends all boundaries and we at St. Mungo's work to spread His word. Our website is one more way to reach our community. If you live nearby then we would be pleased to see you anytime, and if you are visiting on holiday, our door is always open. The minister, Rev John Urquhart and congregation extend a warm welcome to all visitors every Sunday morning, and to all our activities. For pastoral and other enquiries please contact the minister on 01968 382116
Christmas Services at Penicuik Churches


See the calendar of Penicuik Churches Working Together Christmas services and activities. Put the dates in your diary so as not to miss an event. Full Calendar
Christmas at St. Mungo's
Third Advent Sunday Nativity Play - 16 December

Our nativity story had the full cast of Mary & Joseph, Angels, Wisemen, Shepherds, King and Prophet, to perform the story of th ebirth of Jesus. Full Story soon
Second Advent Sunday - 9 December
We continued our journey through advent on Sunday 9th December, The second advent candle, signifying peace, was lit by Ruby Sprott from the congregation.

During the informal time John explained what peace means in the bible. Using a short video we looked at some Hebrew and Greek words. The word "peace" is translated from the Hebrew word shalom meaning peace in human relationships, but also "completeness or soundness."

The Christmas Journey - 7 December


St. Mungo's hosted the Christmas Journey, from Joseph and Mary travelling from Nazareth to Bethlehem, to the birth of baby Jesus in a series of scenes with activities around the sanctuary in the church. Families with young children visited the journey as part of their trip to see the Penicuik Christmas lights switch on.


First Advent Sunday - 2 December
Sunday 2nd December marked the first advent Sunday and our minister John Urquhart invited Charlie from the congregation to light the first candle, the Candle of Hope on our advent circle. We can have hope because God is faithful and will keep the promises made to us. Our hope comes from God.
Our theme was judgment, which we all face at the end of our lives. Christ died to take away the sins of many people and come to save everyone who is eagerly waiting for him.

Hope 4 Peniucik Carol Concert - 8 December
The much loved annual carol concert in the town hall on Saturday 8 December saw the Penicuik Silver Band, the Puppets and much more, bring us the real meaning of Christmas through story, theatre and song. Full story



Girlguiding Christmas - 5 December
On Wednesday 5th of December St. Mungo's played host to Penicuik and Midlothian Girlguiding, Rangers, Brownies, Trefoil and Rainbows girls, parents and friends, for their annual Christmas Service.

The church had been decorated with lights and ribbon so looked very festive. St. Mungo's minister, the Rev John Urquhart joined the celebration, providing the blessing and prayer.

This year Girlguiding were supporting those in need at Christmas, with no food to feed themselves or their families. They brought over 45 bags of food to donate to Food Facts Friends foodbank which operates out of St. Mungo's church hall every Monday and Friday. Full Story, Pictures and listen to the service

This years Christmas Fair was full of amazing items to see and buy.Toys for the kids, stocking fillers and more. The raffle this year had an amazing top prize. With a full range of refreshments the visitors wre in for a real treat. Full story and pictures
Marcus Swietlicki Recital - 24 November

Marcus Swietlicki treated us to a wonderful evening of classical music and music from the shows. Accompanied by Michael Barnett on piano the audience of over 70 people sat in awe at the performance. Full story with links to hear the music.
December Prayer Prompts
Prayer Prompts Welcome to this issue of Prayer Prompts. You will find personal and local situations highlighted as well as national and international issues. They're all part of God's world, and He cares about them all. [ Prayer Prompts]


Pastoral Visiting Team
A caring team of people who visit folks we know about who are just home from hospital, or who are housebound, living alone, bereaved, unable to come to church or needing a bit of company for whatever reason.

PLEASE let us know if you would like a visit or know of anyone else who does. You can either phone Margaret Webster (672347), or fill in a Care Card (available at front and side entrances of church) and put it in the box in the vestibule.

The Card can also be used for prayer requests.


Updated 16 December 2018
Webmaster - Jim Paterson
Penicuik: St. Mungo's Parish Church (Church of Scotland). Scottish Charity No SC005838