Mungo Messenger
April Issue
out Now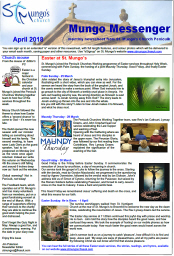 Sign up for eCopy to your email address once a month NOW





Straight to your computer or tablet. The latest newsletter (pdf copy)






Sunday Services
Morning Services start at 11.00am.



Follow Mungo on Facebook
Join our Facebook page and post your comments on St. Mungo's in Penicuik. Click on the image to visit.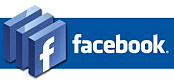 Follow Mungo on Twitter


Be first to hear about the updates and news twitter.com/@st_mungos

Sunday Service - 29 April
Join us for our Sunday service at 11.00am. The Rev John Urquhart will lead our worship.
A short communion will follow the service. All Welcome.
Trustee Training - 25 April

Trustee training for Kirk Session and Congregational Board members. 7.30pm at the North Church Hall


Welcome to our Church
God's word transcends all boundaries and we at St. Mungo's work to spread His word. Our website is one more way to reach our community. If you live nearby then we would be pleased to see you anytime, and if you are visiting on holiday, our door is always open. The minister, Rev John Urquhart and congregation extend a warm welcome to all visitors every Sunday morning, and to all our activities. For pastoral and other enquiries please contact the minister on 01968 382116
Messy Church - 29 April
Theme for this month is 'Two charcoal Fires'. Lots of crafts and activities for the children and families. Celebration time in the church is followed by a meal all together.
For more information contact Joan Cape 674276


Miracles and the Disciples - 15 April


We heard how Peter told the story of the whole of scripture, to explain to people his testimony to Jesus. Starting with the allage spot we watched and listened to a video of Adam and Eve in the Garden of Eden, meeting the snake. John's sermon continued by telling us that miracles are signs, and how we have to understand what they mean. He took the first miracle of the disciples on their own, without Jesus after his crucifixion, but with the Holy Spirit




The Christian Life and Witness Course is 8 - 28 April
CLWC will reignite your faith and empower you to live a life that radiates God's love. Discover the victory He has for His children and equip yourself to share it with others through this dynamic course. You'll also find practical help in reaching the next generation for Christ. The course is taught by a representative of the Billy Graham Evangelistic Association.
The Christian Life and Witness Course is scheduled beginning 8th April through 28th. You attend one class a week for three weeks. The course is free, and all materials are provided.Nearest locations are available on Friday evenings at Leith Baptist Church, or Saturday mornings at Christ Church, Edinburgh Full Details


Pastoral Visiting Team
A caring team of people who visit folks we know about who are just home from hospital, or who are housebound, living alone, bereaved, unable to come to church or needing a bit of company for whatever reason.

PLEASE let us know if you would like a visit or know of anyone else who does. You can either phone Margaret Webster (672347), or fill in a Care Card (available at front and side entrances of church) and put it in the box in the vestibule.

The Card can also be used for prayer requests.

Updated 22 April 2018
Webmaster - Jim Paterson
Penicuik: St. Mungo's Parish Church (Church of Scotland). Scottish Charity No SC005838