Mungo Messenger
April issue out
NOW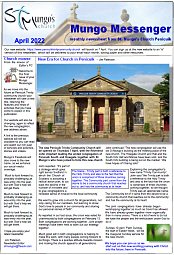 With stories of your church's March events, plus news of all Mungo's Easter and April events, including launch of the new
Penicuik Trinity Community church
Straight to your computer, tablet or phone. The latest newsletter
(pdf copy)

Download April issue


Penicuik St. Mungo's
Annual Report & Accounts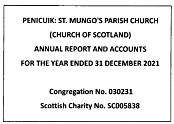 Penicuik St. Mungo's Report and Accounts for year ending 2021 now available to download.
Report Accounts 2021



Ukrainian Crisis Appeal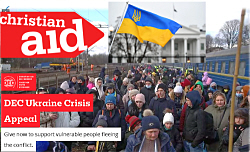 Over a million people have fled their homes as conflict intensifies in Ukraine

St. Mungo's with Penicuik South and Howgate are supporting the Christian Aid and Dec appeals for donations of money to help the humaritanian effort in the country during this time of conflict

You can donate through Christian Aid and DEC website
https://www.christianaid.org.uk/
Catch-up past Services
You can still listen to our past services, and feel closer to God, through praise, bible readings, prayer and sermons.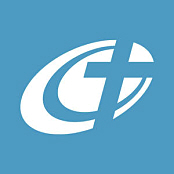 Always available for you, anytime, anywhere

New Name - New Website

With the union of St. Mungo's with Penicuik South and Howgate to form
Penicuik Trinity Community Church we have started a new website

Please bookmark this new website to view latest information of activities and news. The new website is designed to operate across all devices, PC's, tablets, and smart phones.

This website (www.stmugos.freeuk.com) will no longer be updated, but will remain as a resource to search over the many years of news articles and services held in this church.

Presbytery Service of Union - Thursday 7 April


A service to mark the union of St. Mungo's with Penicuik South and Howgate to form

Penicuik Trinity Community Church

was led by Presbytery on Thursday 7 April. Members from Penicuik South and Howgate, St. Mungo's, and the other churches in Penicuik joined to hear and take part in the formal union of our two churches.

From the Heart of Penicuik - to the Heart of Easter
View the videos now to see the programme from Palm Sunday to Easter Day


April Prayer Prompts


A few of the things you might want to thank God for, speak to Him about or ask Him for.





Downloadable print version now in new Tri-Fold format making it even easier to keep a copy in your pocket.

Please use as many of these suggestions as you can, and please let me know if there is anyone or anything you would like to see included in future months.
Bill (billandmags@talktalk.net or 672347).

Visit our Prayer Prompts, page for items to add to your daily prayers.
Updated 21 April 2022
Webmaster - Jim Paterson
Penicuik: St. Mungo's Parish Church (Church of Scotland). Scottish Charity No SC005838