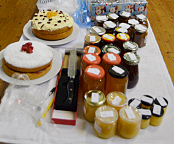 Cakes and marmalades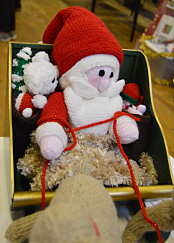 Santa on his sled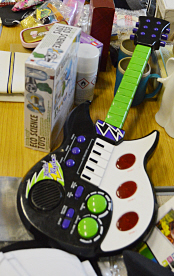 Guitar for rockstar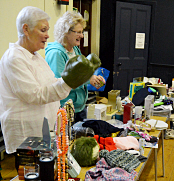 You will be buying, won't you?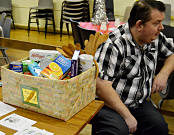 Mark on foodbank table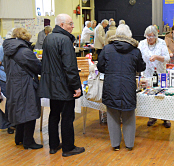 Quweu for raffle tickets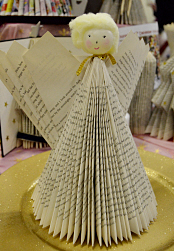 Angel from brochure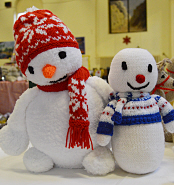 Hi Folks could be colder for us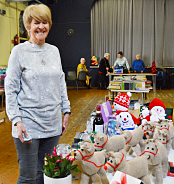 Margaret next to Santa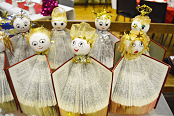 Christmas Fair - 24 November 2018
Story and photos - Jim Paterson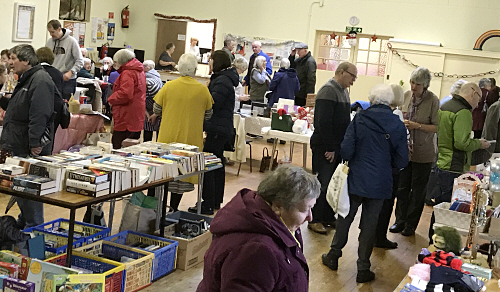 Browsing for a bargain



Visitors to the annual Christmas Fair on Saturday 24th November received a warm welcome as they stepped in from the chilly morning outside.

This year there were even more stalls filled with great ideas for stocking fillers and gifts for friends. We also had a wide selection of Christmas cards and decorations, with the tables offering all sorts of goodies, ideal as stocking fillers for that special gift.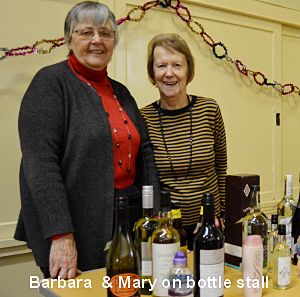 The bottle stall with Mary Paterson and Barbara Sprott did a brisk job selling tickets for the draw. Wide selection of wines, spirits and soft drinks on offer. Anything if it was in a bottle.

Homebaking was loaded with cakes, loaves, scones and buns, all baked by the ladies in our congregation. Joyce Hunter and Ina was helping to sell them to visitors struggling to make a choice. Too easy to buy one of everything.

Helen McCall and Dorothy Paterson were busy on the stall loaded with toys, warm woolly hats and gloves, even a guitar for a budding rockstar. Helen was showing off a fine pair of boxing gloves. 'You will be buying something won't you?' Good stocking fillers for every Christmas.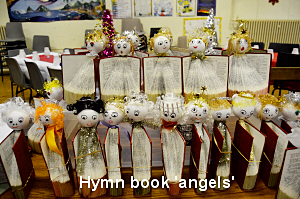 The 'hymn book angels', made by members of the congregation using old and unused hymn books, were proudly on display. Joan Cape was showing how it was done, so anyone could have a go if they wished.

Danielle from the Salvation Army at Pentland House homeless accommodation brought some angels made from old store brochures. together these showed just how creative you can be with old books and out of date brochures. She also had some jars of marmalade and jams to tempt those with a sweet tooth. The Salvation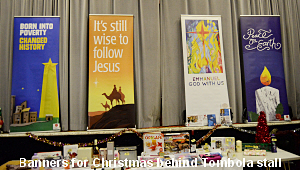 Army Brass Band will be holding a Carol singing afternoon, 5.30pm Thursday 13 December,outside Pentland house. Traditional Carols to sing with joy.

Mark Wells was at the Food Facts Friends table with information on the foodbank, and also a table with Christmas cards and decorations.

Isabel Donachie and Jean Lennie were helping on the Tombola stall, where lots of prizes were just asking to be won.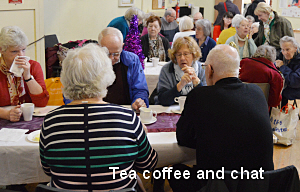 Refreshments included a magnificent selection of cakes, fruit loaves, sponge cake, scones, cream scones, and the first mince pies of the season, all hand baked.

The ladies circled the tables serving endless coffee or tea. The refreshment tables were full of laughter and chat as many tall stories were told and gossip exchanged.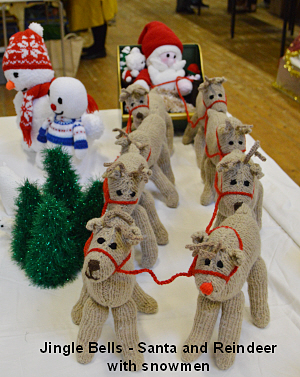 The big Raffle was managed by Susan Duns. The big prizes were a Christmas hamper, and a complete Santa on sled with Reindeer, plus snowmen.

What a gift for some youngster to wake up to on Christmas morning.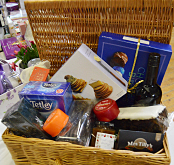 Agnes Ovenstone was able to report a total of nearly £900, raised for church funds, which by time of writing this report had exceeded this figure.

Thank you to everyone who turned out to support the Christmas Fair.

The Christmas Fair on 24 November included a quiz. Checkout the answers

| | | |
| --- | --- | --- |
| browsing for a | Santa winner | Christmas cards and Decorations |
Published - 26 November 2018