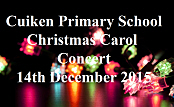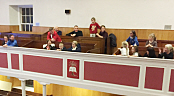 Gallery audience searching for answers.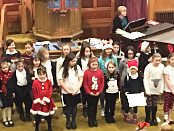 Hark the Herald angels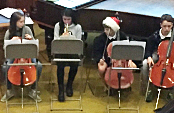 Solo trumpeter joins cellos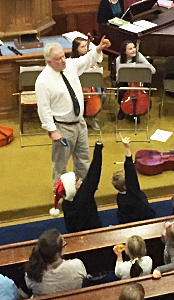 Ian Cathcarts asks the questions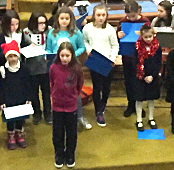 Solo singer leads 'Child in a Manger Born'
Cuiken Primary Carol Concert - 14 December




Cuiken Primary School Choir



The families of Cuiken Primary gathered in St. Mungo's on Monday 14th December for their Christmas Carol Concert. The children read the nativity story with Cuiken's music specialist Elaine Callaghan playing the piano to lead the carol singing. The Rev Ian Cathcart read the lesson, and had a little something extra for the children.

Head teacher Joanna Taylor started off the evening introducing the Rev Ian Cathcart, Keira and Hannah, who started the story with the angel Gabriel visiting Mary to tell her she would bear the son of God. We followed Mary and Joseph on their trip from Nazareth to Bethlehem for the census.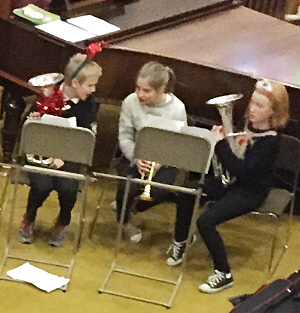 Everyone joined in 'O Little Town of Bethlehem', followed by 'Once in Royal David's City'. We then heard of the Shepherds visit by the angels to guide them to the stable. Silent night and Away in a Manger were then sung, supported by the school choir, and the student musicians playing trumpets, horns, cello and recorders. The story continued with the three wise men following the star, with gifts for the new born King. The story concluded with 'Joy to the World'.

But all was not finished. The Rev Ian Cathcart spoke to the children and, in true 'teacher' mode ran a little quiz, with questions such such as who remembered the name of the angel that visited Mary? How long did it take to travel from Nazareth to Bethlehem ? Ian had the biggest bag of chocolate gold coins to give out as prizes.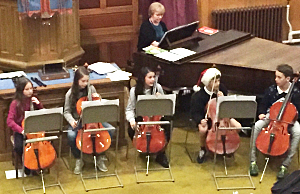 The musicians got 'on stage' to lead 'Hosanna Rock, Hosanna Roll' which is a favourite at Cuiken school. We then listened as they played 'White Christmas', followed by the choir singing 'The Holly and the Mistletoe'. The cello's returned with 'Jolly Old Saint Nicholas', and everyone got together again for another school favourite 'Reindeer on the Roof'.

The children displayed their French knowledge singing 'Vive le Vent' (long live the wind) to the tune of 'jingle bells' played by the cellists. After two verses the words changed to 'jingle bells,. The concert closed with 'We wish you a Merry Christmas'. The departing families children each got a bag of chocolate gold coins.

It was good to see such young talented children performing, and playing musical instruments not only well, but so confidently. Penicuik is blessed with such talent, at both the High School and Beeslack. These Cuiken children will be able to extend their musical skills as they progress into secondary education, thanks to the progressive musical departments at both these secondary schools.


Thanks to all who supported the event and have a happy Christmas.


For all the Christmas events click HERE