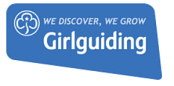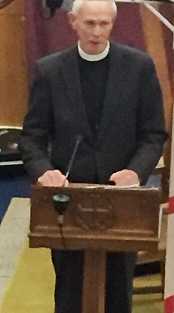 Rev Hugh Davidson welcomes and opens the event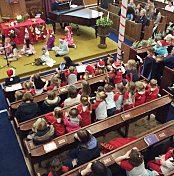 Audience get involved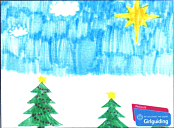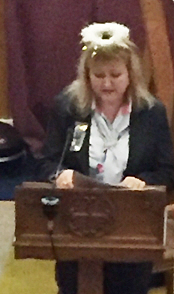 Leader Gill Amos narates part of the story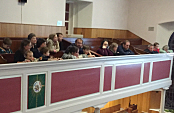 Parents and families look on from the galleries
Girlguiding Christmas - 7 December 2016

On Wednesday 7th of December St. Mungo's played host to Penicuik and Midlothian girlguiding, brownies and Rainbows girls, parents and friends, for their annual Christmas Service. We also welcomed Sir Robert and Lady Clerk as our special guests.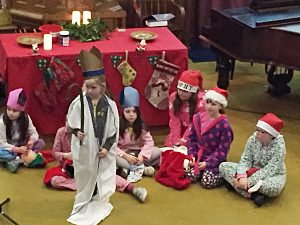 The church had been decorated with holly and ribbon so looked very festive. St. Mungo's minister, the Rev Hugh Davidson welcomed everyone and opened the service.

This year girlguiding were supporting those in need at Christmas, with no food to feed themselves or their families, by bringing donations to be split between the North Kirk food store and the Sacred Heart foodbank.

The service took us on a journey which began with the carol 'away in a manger' taking us to Bethlehem. We then moved to Prague where we heard about the needy of Prague called Wenceslas: "Father of the Wretched". The well known carol 'Good King Wenceslas' tells the story of a good deed on Boxing Day (feast of Stephen).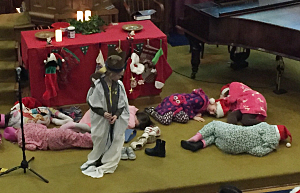 Back to Bethlehem and the carol 'O little town of Bethlehem' , before chanting together, 'Lucy-light, Lucy-light, shortest day and longest night', then singing Santa Lucia .


The Calyspo Carol was followed by a blessing and prayer by Rev Ruth Halley after which we sang Silent Night.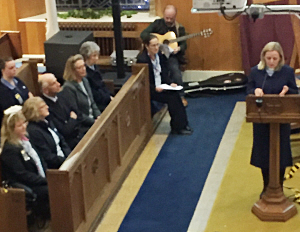 Then we headed to Turkey, and Patara the birthplace of St. Nicholas, which in his time was part of Greece. We heard how he gave his inheritance to help the poor, leading him to become the Bishop of Myra.

Many people however know St. Nicholas by his adopted name 'Santa Claus', Father Christmas, and Kris Kringle, the bringer of gifts at Christmas.

Just then Santa appeared, complete with sack full of gifts, raising a loud cheer from the guides, brownies and rainbows.


As parents collected their daughters they met Santa and each girl received a gift before heading home.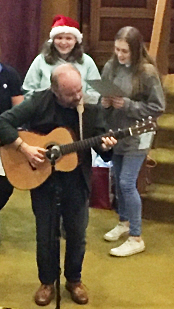 Santa hands out gifts to the girls



A big thank you to David McGavin playing the organ and piano, and Alan Murray on guitar.

Girlguiding wishes all girls, and boys, across the world a very merry Christmas.