Story and photos - Agnes Ovenstone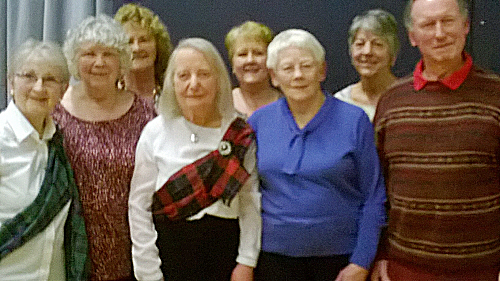 Dressed for the occasion. l to r - Isabel Donachie, Margaret Black, Dorothy Paterson, Eileen Marchant, Christine Jackson, Helen sutherland, Jenny Ramage,
Sandy Robertson



St Mungo's Guild held their Scots Night on Monday 25 January. We began with a light supper of party food, biscuits and cheese and cake. Our session clerk Sandy Robertson said the Selkirk Grace.





Quiz time over a cup of tea and refreshments


A quiz was given out in which famous buildings and landmarks had to be identified. We were then entertained by poetry readings by Guild members interspersed with songs from Isabel Donachie and Dorothy Paterson with Eileen Marchant at the piano.

After a short break in which the answers to the quiz were given Sandy then gave us a rendition of "Bonnie Mary of Argyll". We concluded a very enjoyable evening with community singing ending with "Auld Lang Syne".