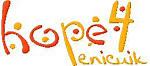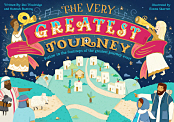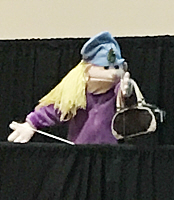 Grumpy lady complains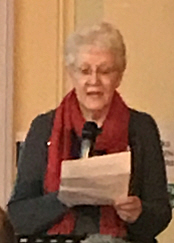 Margaret Webster reads Luke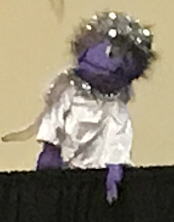 an angel appears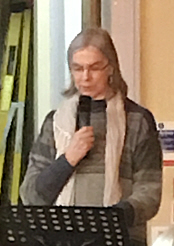 Sue Owen reads Matthew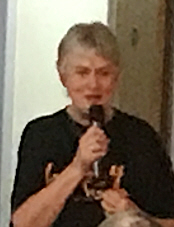 Joan Cape leads the story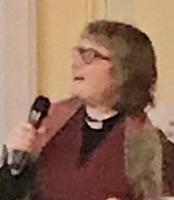 Lynsay Downs
Hope4Penicuik Christmas Carols - 15 December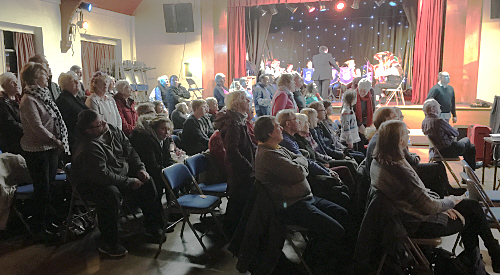 audience sing to carols led by Silver Band



The Town Hall was filled with families and friends to experience the age old story of the birth of Jesus told through song, story and some video. Joan Cape led the story, with the help of readers from all the churches in Penicuik, and of course the Penicuik puppets. The Silver Band provided musical accompaniment, along with Graham McDonald leading some of the Christmas carols on the piano.

The story was based on the bible societies 'Journey to Bethlehem'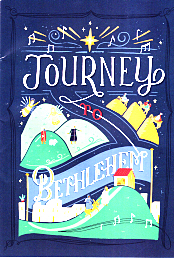 The event was opened with a warming rendition of 'come all ye faithful' led by the Silver Band. This got everyone warmed up after the walking to the town hall over ice covered roads and pavements, with the temperature outside sinking below zero.

A visitor appeared, who we discovered was Sheila, a rather old and grumpy old lady. Our puppet character was most concerned that she could not possibly travel with only her handbag, upon which Neil Cape brought her 'outsize' suitcase, which made her feel a little better.

Joan Cape asked if all that luggage was really necessary, telling us that Mary and Joseph had no such luxury when traveling to Bethlehem, to register with the authorities. Our grumpy old lady did not see it at all at this point.

Margaret Webster from St. Mungo's then reminded us of that time, from Luke 2: 1-16, when Emperor Augustus ordered the census, across the Roman Empire, and Mary gave birth in a manger. We heard how the angels of the Lord came down to visit the shepherds and how they agreed to head for Bethlehem.

Neil showed the first part of the video, featuring Mary Joseph and the shepherds, following which the Silver Band led us in 'O little town of Bethlehem', and 'Still the night Silent the night. Graham McDonald then led us on piano with 'Mary's boy child'.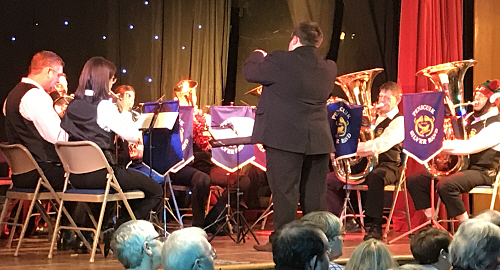 Penicuik Silver Band


The puppets reappeared, this time with sheep and shepherds seeing the angel telling them to make their way to Bethlehem. Sue Owen from St. James the Less read from Matthew 2, telling of the visitors from the east, their meeting with Herod, and following the star to Bethlehem where they delivered their gifts of gold, frankincense and myrrh.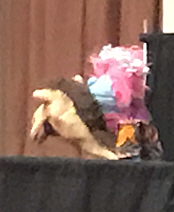 Neil continued with the next clip from the video, 'The wise men', after which we sang 'We three kings of Orient are' accompanied by the Silver Band. Graham McDonald then led us on piano for 'Away in a manger', and 'Love came down at Christmas'.

Our puppets again appeared to illuminate the story, after which the video 'We've got there.....and we go home' was followed by Lynsay Down from St. James the Less reading more of the story.

Graham Mcdonald then led an interactive '12 days of Christmas' which had us all standing and sitting as we progressed through the ever increasing days to 12.

Neil played the last clip of video before we sang 'In the bleak midwinter', accompanied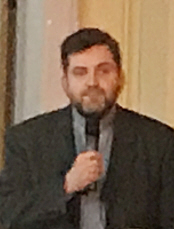 by Graham on piano. John Urquhart from St. Mungo's read from John 3; For God loved the world so much that he gave his only Son, followed by a closing prayer.

We ended with a rousing rendition of 'Hark the herald angels sing', with Graham on Piano, which he continued into 'Amarillo' as the audience departed. .





For all the Christmas events click HERE