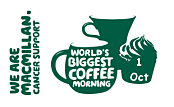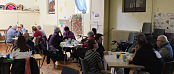 Visitors chat over their coffee.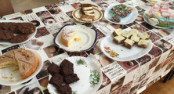 The cakes and goodies going fast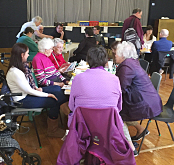 adies having a good blether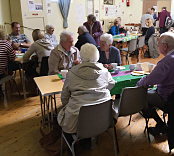 more time to catch up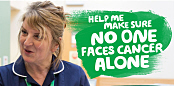 Macmillan coffee morning - 1st October
Report and photos - Jim Paterson

St. Mungo's joined the Macmillan World's Biggest Coffee Morning fundraising weekend on Saturday 1st October in the church hall. Repeating the successful event of past years, the hall once again was filled with fresh baking and lots of hot tea and coffee.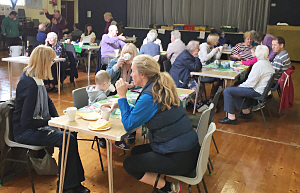 The sun shone down on the visitors, including many St. Mungo's members who took a break from their morning chores and shopping (Ed - isn't that classed as a chore?) for a well earned break and a chance to chat with friends new and old.

The social team ladies had been busy baking and scones with strawberry and cream leading into cream sponges, and chocolate cake. Cup cakes too filled the table.

Making a donation to Macmillan Cancer Support served as the entry, as no ticket required. Coffee and tea was served at the table so no need to even rise for a refill.

A competition to guess the number of hundreds and thousands on a cake, which ranged from 100 to over a thousand, was won by Helen Sutherland who was nearest the actual 495, with a guess of 501. Not bad at all, and won her the bottle of Prosecco.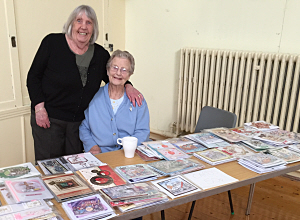 A selection books laid out at the front of the stage attracted a few people looking for a keenly priced bargain to read over the weekend, as did a table heaving with home baking for sale. I was looking for my usual tea loaf but they had all been sold. Should have been a bit earlier. Less chat and more shopping (Ed - here we go on the shopping again!)

Member Avis Anderson was at the display of cards that member Heather Boyle made, here together with Agnes Ovenstone with big smiles all round.

By the end of the morning the few items of home baking left were kept for the after Sunday service gathering for tea and coffee.

Well done and thank you to all who contributed to this worthwhile cause.



The final total reached £400, plus many with Gift Aid, so nearer £450.
Thanks to everyone who donated.