Rowing our boats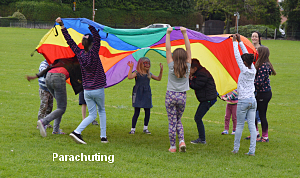 To get the new Messy Church season after the summer break off to a great start, we gathered in the park for a day of sporting fun and games on the afternoon of Sunday 27 August

It all happened at the playing fields on Bog Road in Penicuik. Sheila and Iain Anderson had brought along their Marquee tent which was quickly erected. The sporting activities were designed by Joan and Neil Cape, as were the catering activities.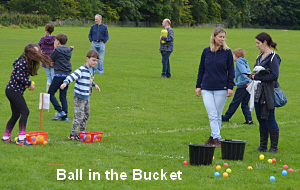 Joan and Neil brought some of the recent London Athletics events to Penicuik creating a bit of fun. These included dribbling a ball through a course of cones in the fastest time, Throwing balls into a bucket, and water carrying, into a bucket at the end of the course, without dropping any. Just to make this one tricky the carry cups had holes in them!!!

A favourite was 'welly throwing'. Here the objective was to throw a welly boot the farthest. A bit of 'trial and error' was needed to finally find the best method of throwing. Heaving the welly boot over the shoulder seemed to help quite a bit.

I thought it was summer, but we had family skiing. Now snow in Penicuik in August I can believe, but not this time. We were on grass. Each set of skis had four ropes to allow up to 4 people to stand on them at one time. The trick is to move forward, in unison. Getting everyone in step, is very tricky.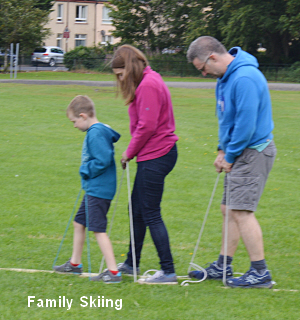 Those leaning to more craft work rather than running and jumping, or just stopping to catch their breath, could try building a marshmallow tower. Using toothpicks to link the marshmallows together was easier than last year using uncooked spaghetti. A wide selection of 'creations' emerged, but the temptation to just eat the marshmallows was very tempting.

There was an opportunity for a bit of face painting, with some creative artwork on display. I do hope that they were using water soluble marker pens. Looked very much like permanent markers to me...... Would be a bit of a problem turning up at school on Monday with a Panda, or Cats face.





Sheila Anderson has a pretty mean whistle, and soon everyone in the whole of Penicuik knew it was celebration time in the marquee tent.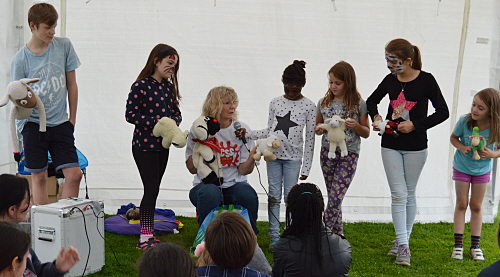 The team help Sheila find the sheep lost friend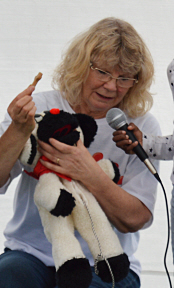 After a session rowing our boats, Sheila produced a bag from which her puppet friend appeared. Was it a dog, or a cat? No, it was a sheep. She asked the sheep why it looked so troubled. It had lost its friend. Sheila looked inside the bag and produced a series of sheep, and other animals, of differing sizes and shapes, but none was the friend that was lost. Even a tiny little sheep that Graham McDonald found in his pocket was not the one either.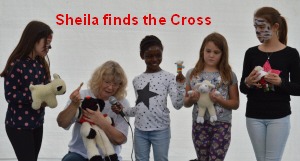 Only a good search in the bag found the answer. A small wooden Cross. Yes that was our sheep friend. The same friend we all have Jesus, the good shepherd that looks after us, guiding and helping us through bad times and good times. in the same way a shepherd looks after their sheep

The smell of the BBQ was now becoming overpowering. Neil Cape and Iain Anderson had been busy on the BBQ grilling a great selection of burgers, and sausages, A queue quickly formed to grab a burger or sausage in a roll, spicing them up from a great selection of sauces and relishes, and adding a side salad to make a great meal. Cakes and pastries provided a sweet dessert to finish, along with lots of juices, tea and coffee.


The team of hungry people line up for the BBQ treats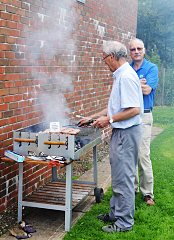 A wonderful start to the new Messy Church season, and we look forward to seeing all the children next month for something new and different again, to hear about the love and good work of Jesus and God, while having some fun at the same time.



The next Messy Church will be on Sunday September 24th
4.00 to 6.00pm




For more information on Messy Church

Contact: Joan Cape 674276 capefamily@talktalk.net
Katrina McDonald kmcd11@yahoo.co.uk




Published - 29 August 2017