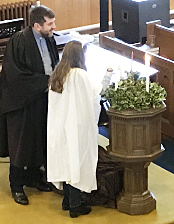 Charlie as angel Gabriel, lights the third advent candle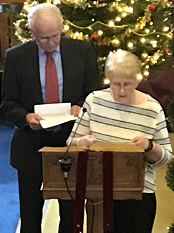 Gordon MacDonald and Christine Jackson our narrators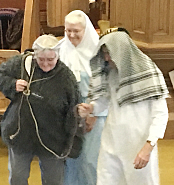 Joseph with Mary and donkey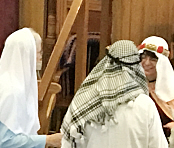 No room at the inn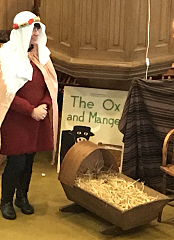 Innkeeper and 'only place left in town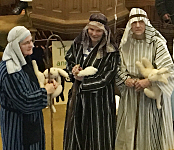 Shepherds start journey to Bethlehem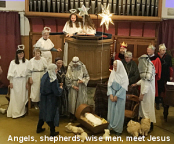 All meet Jesus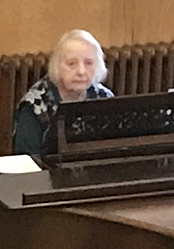 Eileen Marchant on piano leading the singing
Nativity Play 'God with Us' - 17 December 2017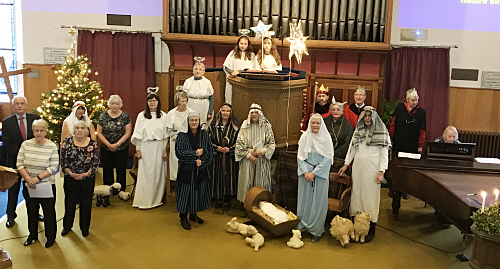 Our cast, narrators and story teller


The Nativity Story was the main feature of our service on Sunday 17th December. John handed over the reins to Agnes Ovenstone who introduced us to the theme 'God with Us', by telling us about a boy called Daniel from Lima, in Peru, who was saved from a life on the streets by his local church emphasising how God is always with us.

Christine Jackson and Gordon MacDonald were the story narrators, with Margaret Black acting as prompter. Eileen Marchant led our singing on piano and organ.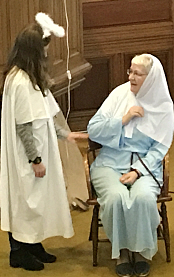 We started with Mary, played by Margaret Webster, entering on stage. Nothing remarkable about Mary, from Nazareth, who was engaged to Joseph, but to God she was very important. The angel, played by Charlotte Sprott (Charlie) came to visit Mary and tell her of the good news, and not to be afraid.

Mary was very confused, not yet married, a virgin, and to give birth to the son of God?

Joseph, played by Bill Webster arrived to hear the good news. However the Roman emperor, Caesar Augustus, played by Rebeca Urquhart, ordered a census, meaning Joseph had to return to his home town of Bethlehem, along with Mary. So started the long journey with Mary on a donkey, played by Janis Hogg. We sang our first song 'Little Donkey.

Arriving at Bethlehem thay found nowhere to stay, the innkeeper pointing to the stable as the only place left in town. So baby Jesus was born in a smelly straw covered stable. The baby Jesus was laid in a manger, as we sang 'Away in a Manger'.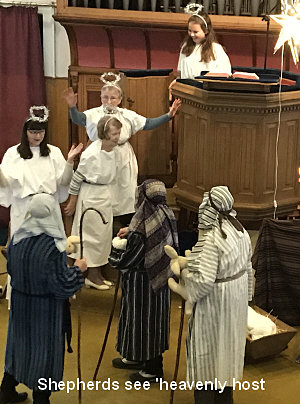 The shepherds, played by Dorothy Paterson, Jenny Ramage and Helen McColl, saw the angel, played by Ruby Sprott, telling them to head for Bethlehem where a saviour had been born. The angel was joined by a group of angels, played by Isabel Donnachie, Mary Paterson, and Elaine Jacobs, known as the heavenly host. We sang 'Hark the Herald Angels Sing'.

After some debate the sheperds set off on their journey to Bethlehem. A few Baa, Baa sound effects occured at this point, before they reached the stable to see the baby Jesus. We sang 'Silent Night' .

The shepherds told everyone about the new born saviour, their lives changed forever. We sang 'O Come All Ye Faithul'.

Some time later three wise men, or Magi, played by John Jacobs, Neil and Joan Cape, could tell from the heavens that something important was happening, so they followed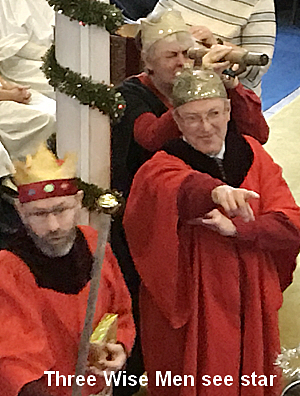 the bright star. But they made a mistake going straight to Herod's palace! But no Jesus there. We sang 'We Three Kings'.

They continued following the star until they reached the stable offering the baby Jesus precious gifts of Gold, Frankincense and Myrrh. That is why we give gifts at Christmas, particularly to poor and needy people. They went home even wiser men, realising that precious things are worth far more than money, and are not always found

The cast all returned to sing our final hymn 'Joy to the World'.


The cast received a full round of applause from the congregation, with John adding that 'Didn't they do well'.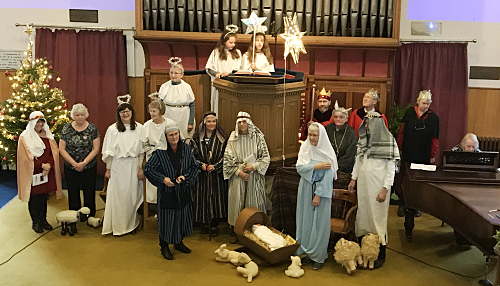 The cast take their curtain call