Story Agnes Ovenstone. Photos - Jim Paterson

St Mungo's win Smart Alec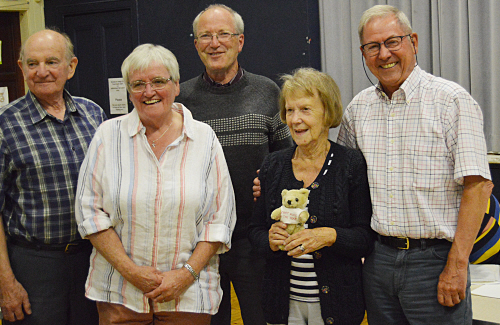 Winning Team 'We Dinae Ken' - (L to R) Jim Paterson, Janis Hogg, Neil Cape, Mary Paterson, and the other Jim Paterson.

At our quiz night on Friday 25
th
May four teams competed. Gordon MacDonald and Agnes Ovenstone shared asking the questions and keeping the score. Although we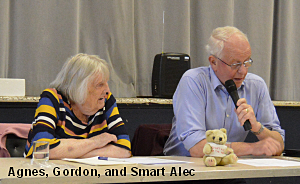 didn't have a great number of people everyone there had a night filled with fun and laughter.
The teams were called Fullers Club, We Dinae Ken, Hunter & Lass Five, and Famous Five.
The six categories were General Knowledge, Science,History, Film, Bible and a multiple choice round. The Bible questions were set by our minister Rev John Urquhart and were based on Shepherds of the Bible.
After three categories we had tea/coffee and loaf and cake. Then back to the quiz.
One of the general knowledge questions was "What is the world's largest mammal" which of course is the Elephant but one team thought the Giraffe which is of course taller but not larger. One of the multiple choice questions was "Festfolk" was the original name for which group – Beach Boys, Abba, Motorhead or Simon and Garfunkel" The answers were split between Abba and Simon and Garfunkel.
Correct answer Abba.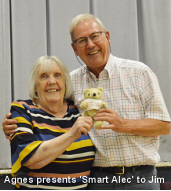 A lot of sighing and/or cheering or moans could be heard from around the hall . When, as they say on quiz shows, the results were counted and verified the winning team by one point was We Dinae Ken comprising of Mary and Jim Paterson, Janis Hogg, Neil Cape and Jim Paterson.
Agnes presented Jim with the coveted Smart Alec trophy.
Everyone agreed it had been a really good night