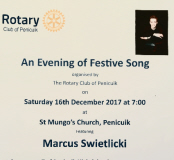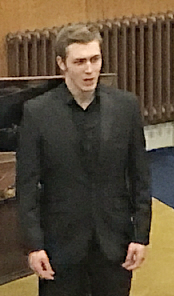 Marcus sings his first piece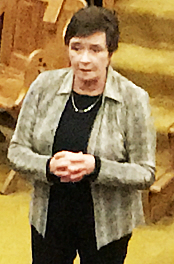 Jean Lennie introduced Marcus and the concert.


Marcus presents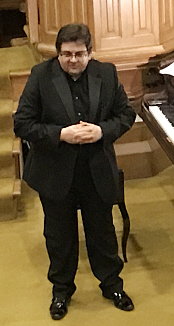 Michael Barnett introduces.

Evening of Festive Song - 16 December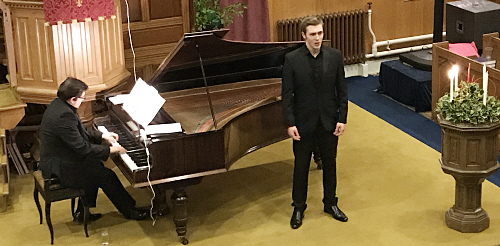 Christmas scene as Marcus sings


It was freezing outside with ice under foot, but the church was warm and welcomng for an evening of festive songs, sung by local 18 year old Marcus Swietlicki.

Accompanied by Michael Barnett on piano, Marcus sang a range of songs to entertain the audience who had braved the temperatures outside to come along and hear this talented tenor singer.

The first Act of the Repertoire started with 'Total Eclipse', the aria from Handel's 1741 oratorio, Samson. The words are Samson's anguished lament at losing his eye sight. Handel also went blind, and according to some accounts, this aria moved Handel to tears in the final years of his life.

Marcus moved to another well known Handel oratario, 'Messiah,' written immediately before Samson in September 1741. In Christian theology, the Messiah is the saviour of the Jewish people and humankind, whom we call Jesus Christ. We heard 'The Rebuke' followed by 'Behold and See', from Part 2 Scene 1 - Christ's Passion. Completing the Messiah presentation was 'Comfort Ye' and 'Ev'ry Valley' from Part 1 Scene 1 - Isaiah's profecy of salvation, all written for a tenor singer.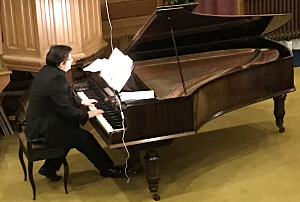 Michael took centre stage, giving Marcus time to recover, playing a Brubeck arrangement of 'What Child is This', a Christmas carol whose lyrics were written by William Chatterton Dix, in 1865. If the audience thought it sounded like Greensleeves, it did, the lyrics being set to the same tune.

For his final songs before the intermission Marcus made a change of style and language, singing two serenades in Italian, starting with 'La Serenata' by Francesco Pauli Tosti, one of his most famous works, and 'O Del Mio Amato Ben' by Stefano Donauldy.

Jean Lennie who had arranged the concert ran a raffle during the break, while Marcus took time out to rest his voice. A bottle of wine and a Christmas hamper were presented to two members of the audience who were lucky enough to have bought a programme with the correct winning numbers.

The second Act took music from the musicals as the opener. 'Maria' from Leonard Bernstein's West Side Story, was followed by 'Anthem' from Chess, written by Benny Andersson and Bjorn Ulvaeus. A well known song from My Fair Lady followed, 'On The Street Where You Live' by Lerner and Lowe.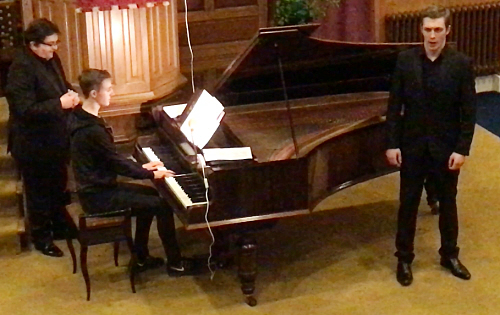 Rory takes over from Michael to play Empty Chairs and Empty Tables


Boubil and Schonberg Les Miserables songs are a tough one to sing for many singers, but Marcus took the big ones in his stride, starting with 'Bring Him Home', then 'Empty Chairs and Empty Tables', the latter piano accompaniement provided by Marcus's brother Rory, who himself is studying in London to be a ballet dancer. A really talented family.

No concert would be complete without a song from the Andrew Lloyd-Webber stable, and 'Close Every Door' was chosen by Marcus from the show 'Joseph and the Amazing Technicolor Dreamcoat, one of the most popular songs of the musical.

Being a Christmas concert Marcus fiished with two well known Christmas Carols, 'O Holy Night' composed by Adolphe Adam in 1847, and with audience participation, 'Silent Night', composed in 1818 by Franz Xaver Gruber.

A great round of applause from the audience was a fitting conclusion to what had been a wonderful evening of song from Marcus. We wish him well as proceeds with his training to be a professional classical singer.


Published - 18 December 2017