The South Church was filled with over 200 people on Saturday 26 August to hear Sophie McDonald perform a concert of song and clarinet. The audience were captivated for over 2 hours, with only a 30 minute interlude, listening to a wide range of musis styles and songs. Sophie was joined by her father Graham McDonald accompanying her on piano.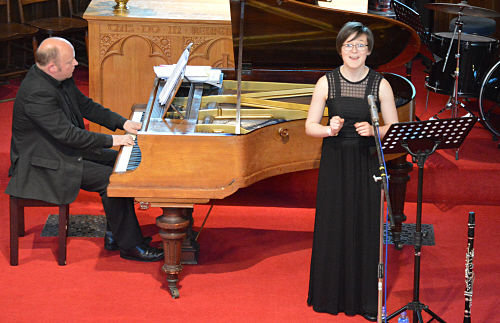 The concert was Sophie's idea to help raise funds, through audience donations, to contribute towards the cost of her forthcoming classes at the Junior Conservatoire in Glasgow in September. This presitgious training was won following a series of auditions, in the face of considerable competition.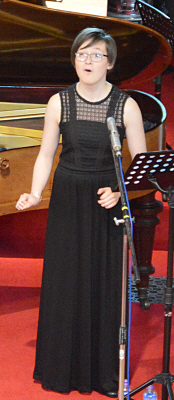 The concert started the first Act with Sophie singing a selection of songs. Opening with the well known
'I could have danced all night'
by Frederick Loewe/ Alan jay Lerner, she moved into a classical piece, Mozart's '
L'Ho Perduta
'. Continuing the classical theme we heard '
Maria Wiegenlied
', written in 1912 by Max Reger.
Time for music from the shows, with a selection that we all recognised. Sophie started with the Rogers and Hammerstein 1943 hit musical Oklahoma, '
Out of my dreams' followed by
'
If I loved you
' from the 1945 musical Carousel. No music from the shows is complete without a number from the Andrew Lloyd Weber pen, and Sophie chose '
Think of Me
' from the 2004 musical Phantom of the Opera.
We headed back to 1929 for the Thomas "Fats" Waller rendition of '
Ain't Misbehavin
', Fats said the song was written while "lodging" in alimony prison, and that is why he was not "misbehaving".
The first Act drew to a rapturous conclusion with '
No one else
', from the 2012 Broadway show Natasha, Pierre & the Great Comet of 1812, which is a musical adaptation of a segment of Leo Tolstoy's War and Peace, written by composer/lyricist Dave Malloy.
A great selection of refreshements were available during the interlude, before we gathered again for Sophie's selection of music for clarinet.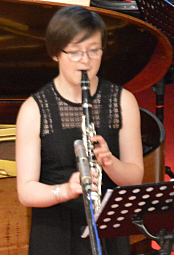 Act 2 commenced with '
Sonata in E flat major Op.167
' for clarinet and piano, written in 1921 by Camille Saint-Saens, towards the end of some 70 years composing. Sophie played all four movements, Allegretto, Allegro Animato, Lento, and Molto Allegro.
Drawing breath she continued with '
Sonata in E flat major
' by Felix Mendelssohn, written in 1824. The clarinet was the only wind instrument for which Felix Mendelssohn wrote any solo works Sophie played the second movement, 'Andante'.
Bringing a bit of jazz into the performance, we heard 'Etudes on themes of Gershwin' by Paul Harvey, with Sophie playing the 1930 song '
I got rhythm
'.
Returning to classical pieces, this time Mozart '
Clarinet Concerto in A K622
', written in 1791, Sophie playing the second movement 'Adagio'. The Finale of the concert was one of the Gerald Finzi chamber works, '
Five Bagatelles Op.23'
, Sophie playng all five movements Prelude, Romance, Carol, Forlana, and Fughetto.
A standing ovation of applause filled the church with appreciation for this barely 15 year old student, playing and singing with such professionalism and joy, and allowing us to enjoy such talent. We all look forward to hearing Sophie in future years as she develops her talent and skills, starting with her classes at the Junior Conservatoire in Glasgow.