Audience gather to hear Sophie in action

The talented young singer and clarinetist, Sophie McDonald filled Penicuik South Church with song and clarinet music for her recital on Friday 14 September 2018. The audience were in for a musical treat indeed as Sophie entertained us with two acts opening with songs modern, jazz and classical. Following a short break and we were being treated to some of the most beautiful clarinet music written. Sophie was joined by her father Graham McDonald accompanying her on piano.
The concert was Sophie's idea to help raise funds, through audience donations, to contribute towards the cost of her continuing classes into second year, at the Junior Royal Conservatoire in Glasgow.
The concert started the first Act with Sophie singing a selection of songs. Opening with '
Music for a while
' by English composer Henry Purcell (1659 - 1695)
Sophie told us
what she had been doing
in her first year at the Conservatoire, including a televised BBC Christmas Eve service.
The recital continued with another Purcell Baroque piece '
Oft she visits
' from the opera Dido and Aeneas.
Something completely different
Mr Snow
from the Rodgers and Hammerstein musical Carousel. Next we were treated to a piece by Johannes Brahms
An Die Nachtigall
. Let
Sophie tell you the story
. This was followed by Christoph Willibald Gluck (1714 -1787) composition, '
O del mio dolce ardor
' (Oh, of my sweet passion).
O del mio dolce ardor
As a huge fan of musical theatre Sophie turned to Les Miserable for her next song,
I dreamed a dream
, and then from the recent musical Hamilton, by Lin-Manuel Miranda '
Burn
' Listen to
Sophie telling you the background
Continuing the musical theme we turned to the English composer Armstrong Gibbs (1889 - 1960) and his song for piano and '
The Cherry Tree
'
Hear more about this song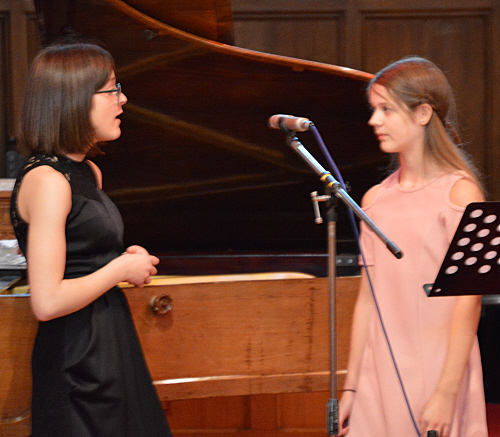 For Sophie's final song in Act 1, she called on her young sister Anna to accompany her in the duet '
For Good
' from the Broadway musical Wicked by Stephen Schwartz , from the book by Winnie Holzman.
A bit of the background
A great selection of refreshments were available during the interlude, before we gathered again for Sophie's selection of music for clarinet.
Act 2 commenced with an
introduction by Sophie
of the first movement of Franz Krommer, a prolific composer, and court composer (1759 - 1831), ranked with Mozart and Haydn '
Concerto in E Flat Major
'. This was followed by
Sophie introducing
a

sonata by the French composer Francis Poulenc (1899 - 1963) '
Clarinet Sonata
' written for clarinetist Benny Goodman. This was the last piece Poulenc wrote before his death.
A change to a more contemporary style, Sophie played us the well known Acker Bilk '
Stranger on the Shore
' which Sophie tells us was a favourite from her time in primary school.
Time to bring in a bit of jazz clarinet, with three pieces for unaccompanied clarinet, giving Graham on piano a rest, written by composer Paul Harvey, Professor of Clarinet and saxophone at the Royal Military School of Music. Inspired by George Gershwin, we listened to '
I got Rhythm
'
For her final piece Sophie played a selection by William Hurlstone (1876 - 1906) an English composer who died young, before his potential could be realised. As Sophie says a real 'What if? character. The four pieces include a
ballad, lullaby, intermezzo and scherzo
After the applause subsided
Sophie thanked
those who helped her put on the recital, and the support of all those who turned out to listen.
Sophie McDonald is a name we will hear in the future as her musical studies continue.