Penicuik Storehouse keeps growing
You can still buy shares to invest in Penicuik Storehouse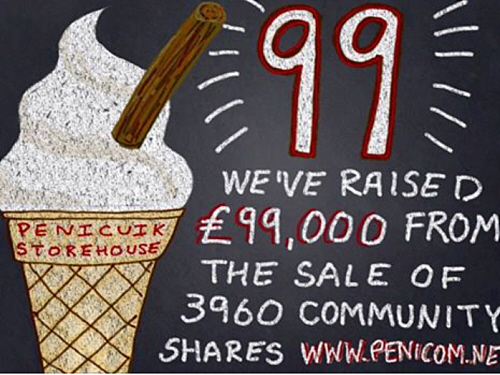 From fundraiser Roger Kelly.

The sun is shining, the birds are singing...and everyone who buys or has bought any shares in the Penicuik Storehouse is helping to strengthen the community nest and improve things for those little shares just waiting for conditions to be right for growth.

Breadshare Bakery - Wholefood Grocery - Social Supermarket - Cafe - Community Space - Lost Garden Foodhall - Training - Jobs.

Buy online at www.microgenius.org.uk/project/penicuik-storehouse-43
International & paypal investors find it quick and easy at www.crowdfunder.co.uk/penicuik-storehouse/

Follow progress on www.facebook.com/groups/424104601131441/

Forms to fill are at Penycoe Press, Bridge St., Penicuik where investments can be over-the-counter or by post, and are downloadable at www.penicom.net.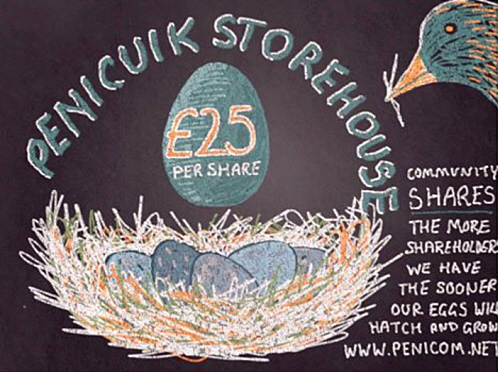 The Storehouse SHARE ISSUE PASSED ITS MINIMUM TARGET IN MARCH, SO WE FLOAT! The Storehouse goes ahead and continuing investment is encouraged up to our maximum of £300,000. So far over 728 people have bought 3960 shares raising £99,000, that's £33% of our maximum, and the additional Scottish Government Town Centre Communities Capital Grant of £150,000 has been drawn down to cover some of our capital costs. Shares are available at Penycoe Press and Crowdfunder, and Microgenius, see links above.

Invest if you can. Post or take or fill in a form at the Penicuik Comunity Alliance Ltd registered office, Penycoe Press, 7 Bridge Street, Penicuik EH26 8LL or you can buy online at Microgenius see:- www.microgenius.org.uk/project/penicuik-storehouse-43 .

International and paypal investors can use crowdfunder:-
www.crowdfunder.co.uk/penicuik-storehouse/

What is Storehouse

Penicuik Community Alliance has been formed as a Community Benefit Society to create and operate the STOREHOUSE in extensive premises in the centre of town at 22 HIGH STREET and BANK STREET PENICUIK to create and operate daily:

• a BREADSHARE community BAKERY,
• a TEA & COFFEE HOUSE associated with the bakery,
• a STOREHOUSE KITCHEN.
• a GROCERY STORE and cash-and-carry extended from the weekly VH Saturday Foodmarket that has operated at 17 High Street for 26 years supplied by GreenCity Wholefoods and others.
• a LOST GARDEN FOODHALL with fresh produce from the Lost Garden of Penicuik and other local suppliers
• an INDOOR MARKET drawing on experience with Penicuik's successful First Friday monthly outdoor Farmers Market

With upstairs:

• Beyond Foodbanks SOCIAL SOLIDARITY SUPERMARKET community shop training space and cafe, for referrees only, operated as closely as possible along lines pioneered by Community Shop at Goldthorpe and Lambeth, and related to the work of Company Shop FairShares and the Trussell Trust.
• TRAINING AREAS for events and classes
• a special COMMUNITY SPACE for events and classes