Mungo Messenger
May Issue
out Now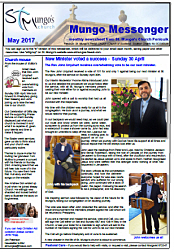 Sign up for eCopy to your email address once a month NOW





Straight to your computer or tablet. The latest newsletter (pdf copy)






Sunday Services
Morning Services start at 11.00am.



Follow Mungo on Facebook
Join our Facebook page and post your comments on St. Mungo's in Penicuik. Click on the image to visit.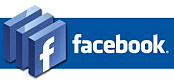 Follow Mungo on Twitter


Be first to hear about the updates and news twitter.com/@st_mungos

Communion Service 28 May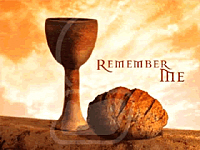 Join us at 11.00am as we worship God, and celebrate the sacrament of the Last Supper. A warm welcome to the Rev Hugh Davidson, who will return to lead our worship, and communion. All welcome.
Kirk Abseil - 28 May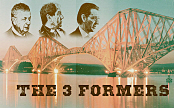 Figures from the Kirk will abseil down the iconic bridge to raise funds for Scotland's largest social care provider, CrossReach.
The Principal Clerk of the General Assembly of the Church of Scotland and former Moderator, the Very Rev Dr John Chalmers, will be joined by the outgoing Moderator, the Rt Rev Dr Russell Barr and the retiring chief executive of CrossReach, Peter Bailey.



Welcome to our Church
God's word transcends all boundaries and we at St. Mungo's work to spread His word. Our website is one more way to reach our community. If you live nearby then we would be pleased to see you anytime, and if you are visiting on holiday, our door is always open. The minister, Rev Hugh Davidson and congregation extend a warm welcome to all visitors every Sunday morning, and to all our activities. For pastoral and other enquiries please contact Margaret Webster on 01968 672347
Quiz Night - Monday 22 May
Five teams pitted their wits and scratched their heads over the range of brain teasers at the annual inter Penicuik churches quiz night on Monday 22nd May. Categories included History, British Isles geography, Acronyms, general knowledge, and of course the Bible. With a break half way for refreshments the evening was a great laugh and enjoyed by all. Full story soon.
Messy Church - Sunday 28 May 4.00pm
St Mungo's Hall for our session of fun, fellowship and food (hot dinner) for families with children of primary school age.

This months theme 'A still small voice'. How God speaks to us, often quietly. Crafts and time of celebration in the church. Come along and find what that's all about.



Further information from Joan Cape 674276.




Christian Aid - Sunday 21 May
We celebrated the end of Christian Aid Week by looking at the breadth of outreach the charity has achieved in over 60 years, and continues to achieve.

In the service, led by the Elders, as our minister Hugh was still on 'sick leave', and our Session clerk, Sandy Robertson, who would normally lead, was also incapacitated.

Eric Marchant closed our service with a superb review of the mornings service, leaving us with much to think about.

MayPrayer Prompts
Visit our Prayer Prompts, page for items to add to your daily prayers. You will find personal and local situations highlighted as well as national and international issues. They're all part of God's world, and He cares about them all. [ Prayer Prompts]

A fully symphonic concert of praise and worship in the stunning surroundings of St Mary's Episcopal cathedral in Edinburgh and Glasgow Cathedral. The event will be led by Origin's Exile Choir and Chamber Orchestra.

Saturday 3 June: Glasgow Cathedral
Sunday 4 June: St Mary's Episcopal Cathedral, Edinburgh

There is no charge for the tickets, but there will be a collection on the night. Suggested donation is at least £10 per ticket. Full Details and ticket booking
The Unforgiving Servant - 30 April



This months theme: Forgiveness – "The Unforgiving Servant"


We took the parable of the king who wanted to settle accounts with his servants. A man who owed him ten thousand bags of gold was brought to him. Since he was not able to pay, the master ordered that he and his wife and his children and all that he had be sold to repay the debt. At this the servant fell on his knees before him. 'Be patient with me,' he begged, 'and I will pay back everything.' The servant's master took pity on him, canceled the debt and let him go. Full Story


Pastoral Visiting Team
A caring team of people who visit folks we know about who are just home from hospital, or who are housebound, living alone, bereaved, unable to come to church or needing a bit of company for whatever reason.

PLEASE let us know if you would like a visit or know of anyone else who does. You can either phone Margaret Webster (672347), or fill in a Care Card (available at front and side entrances of church) and put it in the box in the vestibule.

The Card can also be used for prayer requests.

Updated 24 May 2017
Webmaster - Jim Paterson
Penicuik: St. Mungo's Parish Church (Church of Scotland). Scottish Charity No SC005838