Mungo Messenger
November Issue
out Now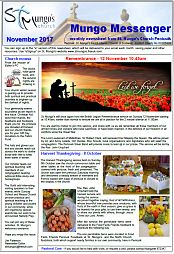 Sign up for eCopy to your email address once a month NOW





Straight to your computer or tablet. The latest newsletter (pdf copy)






Sunday Services
Morning Services start at 11.00am.



Follow Mungo on Facebook
Join our Facebook page and post your comments on St. Mungo's in Penicuik. Click on the image to visit.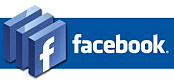 Follow Mungo on Twitter


Be first to hear about the updates and news twitter.com/@st_mungos

Sunday Services - 26 Nov


The 11.00am morning service on Sunday 26 will be followed by our short monthly communion. You are welcome to join as we celebrate the sacrament of the Last Supper. The Rev John Urquhart will lead the services. All welcome.

House Group 22 Nov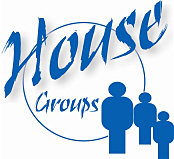 The Housegroup and Bible Study meet at 21 Mauricewood Bank, starting at 7.30pm.
Contact Margaret or Bill 672347 for more information
Penicuik National Day of Prayer - 25 November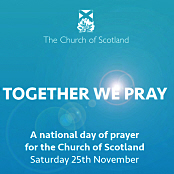 On 25 November we gather as the churches of Penicuik to pray for the future of our Church. Meet in
South Church 10.00am to 4.00pm.
Tea coffee and refreshments available.
Full Details
Congregational Board 5 Dec
The Congregational Board meet in the church hall committee room at 7.30pm.

Welcome to our Church
God's word transcends all boundaries and we at St. Mungo's work to spread His word. Our website is one more way to reach our community. If you live nearby then we would be pleased to see you anytime, and if you are visiting on holiday, our door is always open. The minister, Rev John Urquhart and congregation extend a warm welcome to all visitors every Sunday morning, and to all our activities. For pastoral and other enquiries please contact the minister on 01968 382116
Christmas Fair - Saturday 25 November
Join us on Saturday morning at the annual Christmas Fair, 10.00am to 12 noon. Lots of ideas for gifts, 'stocking fillers' and more. The stalls will be Tombola (includes bottle stall), Bric-a-brac, Books, Christmas items, Home baking, and a Raffle that always has spectacular prizes. Suggested doantion £3.00 which includes tea/coffee and a treat from the display of home baking. Full Details
For more information phone Agnes 672387
What has God entrusted to You? - 19 November
The Sunday sermon built on the earlier reading 'Parable of the Three Servants', using the TV programme 'The Apprentice' to illustrate the story, using three questions, starting with 'What has God entrusted to you?' Listen to the readings, all age talk, and the sermon to see where this leads to. Full Story
Messy Church - 26 November 4.00 to 6.00pm

St Mungo's Hall for our session of fun, fellowship and food (hot dinner) for families with children of primary school age. Theme - 'What's really important about Christmas'
The Christmas story through the eyes of Joseph, and his homeless family, thinking about what it means to be obedient to God when life turns upside down.
Further information from Joan Cape 674276,
Origin Scotland Christmas - Saturday 2 December

CHRISTMAS! with Origin Scotland, Steph Macleod & Jordan Lang (Edinburgh)

Tickets for IT'S CHRISTMAS! with Origin Scotland, Steph Macleod & Jordan Lang are FREE but you need to book them in advance. Just fill in the form below and click "submit". Please make sure you fill in all the fields so we know how to contact you and where to send your tickets.

As the tickets are free, you must have a confirmed name for each ticket before booking, as misuse of tickets can result in people not being able to attend the event. Tickets are unreserved, so you can always return for more later

You may book a maximum of 5 tickets per person online. If you want to book more than 5 tickets please contact the Origin Scotland box office on 0131 208 0095.

Hats Gloves and Scarves - 5 November
Sunday 5 November saw the church filled with woolly hats, gloves, scarves, knee blankets and children's cardigans, all destined for the Blythswood Care Shoebox appeal.

Christine Jackson, the St. Mungo's coordinator, who organises all this knitting activity, and donations for those who don't knit, summed up the display in one word, Wow! Over 500 items donated and displayed. Full Story
November Prayer Prompts
Visit our Prayer Prompts, page for items to add to your daily prayers. You will find personal and local situations highlighted as well as national and international issues. They're all part of God's world, and He cares about them all. [ Prayer Prompts]


Evening of Festive Song - 16 December
An evening of Festive Song, featuring former Penicuik high School student, Marcus Swietlicki will be held in St. Mungo's church Saturday 16th December at 7.00pm.

Organised by Penicuik rotary tickets £8.00 available from 01968 677023 Full Details



Pastoral Visiting Team
A caring team of people who visit folks we know about who are just home from hospital, or who are housebound, living alone, bereaved, unable to come to church or needing a bit of company for whatever reason.

PLEASE let us know if you would like a visit or know of anyone else who does. You can either phone Margaret Webster (672347), or fill in a Care Card (available at front and side entrances of church) and put it in the box in the vestibule.

The Card can also be used for prayer requests.

Updated 22 November 2017
Webmaster - Jim Paterson
Penicuik: St. Mungo's Parish Church (Church of Scotland). Scottish Charity No SC005838