Mungo Messenger
February Issue
out Now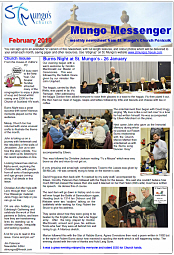 Sign up for eCopy to your email address once a month NOW





Straight to your computer or tablet. The latest newsletter (pdf copy)






Sunday Services
Morning Services start at 11.00am.



Follow Mungo on Facebook
Join our Facebook page and post your comments on St. Mungo's in Penicuik. Click on the image to visit.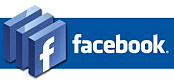 Follow Mungo on Twitter


Be first to hear about the updates and news twitter.com/@st_mungos

Sunday Service - 25 Feb
Join us for the Sunday morning service at 11.00am.
The Rev.John Urquhart will lead our worship. Starts 11.00am.

THe service will be followed by a short communion service.
All welcome.
Bible Study Group - 19 Feb

THe Bible Study Group is suspended for the next few weeks as the team will be leading the Alpha event starting 28 February.
Details on Alpha from Bill Webster 672347

Welcome to our Church
God's word transcends all boundaries and we at St. Mungo's work to spread His word. Our website is one more way to reach our community. If you live nearby then we would be pleased to see you anytime, and if you are visiting on holiday, our door is always open. The minister, Rev John Urquhart and congregation extend a warm welcome to all visitors every Sunday morning, and to all our activities. For pastoral and other enquiries please contact the minister on 01968 382116


Enemies try to destroy the plan - 18 February
It was not all plain sailing for Nehemiah rebuilding the walls of Jerusalem. We heard in past sermons how God had spoken to Nehemiah, with the king of Persia providing material and good passage, and the community being convinced and inspired to start building the wall. But there were others determined to scupper the plan. John told us of Sanballat, Tobiah and Geshem, and their plot of lies and deceipt to discredit Nehemiah, and how they bribed others to do their 'dirty work' for them.


St. Mungo's welcomes new elders - 11 February

The Rev John Urquhart later ordained and welcomed four new elders. Agnes Haggart, Elaine Jacobs, and admitted them along with Joan and Neil Cape as elders in St. Mungo's. Hear the full ordination and the vows taken by the elders and congregation,
Alpha Event - Starts 28 February 10.00am

Everyone has questions……
We believe that everyone should have the chance to explore the Christian faith, ask questions and share their point of view; wherever they are.
St. Mungo's Alpha event commences Wednesday 28 February in the church hall, 10.00am to 12 noon. For more information contact Bill Webster 672347

Elaine Jacobs in conversation with Rev John Urquhart, during the service on Sunday 11 February, talked of her faith and how an Alpha event impacted her life.

Lent - Wednesday 14 February to Saturday 31 March

Journey with your neighbours who have been forced to flee their homes.
Speak to Janis Hogg in church to order your copy of Count Your Blessings calendar.

Edinburgh Gathering - Wednesday, 28 February 10.45am

Come to Edinburgh and celebrate the work of Christian Aid partners in Bolivia, and learn how they are transforming lives by standing up to climate change, overcoming inequality and tackling injustice.


Augustine United Church, 41 George IV Bridge, Edinburgh, EH1 1EL


World Day of Prayer - Friday 2nd March

Penicuik Churches gather together to celebrate the 2018 World Day of Prayer.
This years service originates from Suriname, South America (bordering Brazil).


Starts 7.30pm in Penicuik North Kirk

February Prayer Prompts
Visit our New Year Prayer Prompts, page for items to add to your daily prayers. You will find personal and local situations highlighted as well as national and international issues. They're all part of God's world, and He cares about them all. [ Prayer Prompts]




Pastoral Visiting Team
A caring team of people who visit folks we know about who are just home from hospital, or who are housebound, living alone, bereaved, unable to come to church or needing a bit of company for whatever reason.

PLEASE let us know if you would like a visit or know of anyone else who does. You can either phone Margaret Webster (672347), or fill in a Care Card (available at front and side entrances of church) and put it in the box in the vestibule.

The Card can also be used for prayer requests.

Updated 19 February 2018
Webmaster - Jim Paterson
Penicuik: St. Mungo's Parish Church (Church of Scotland). Scottish Charity No SC005838