Mungo Messenger
June Issue
out Sunday 31 May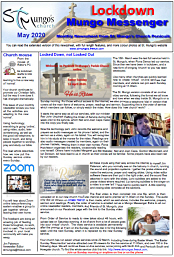 With stories of your church's April activities and services during the lockdown



Sunday Services
Morning Services start at 11.00am.



Follow Mungo on Facebook
Join our Facebook page and post your comments on St. Mungo's in Penicuik. Click on the image to visit.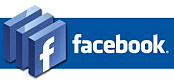 Follow Mungo on Twitter


Be first to hear about the updates and news





Welcome to our Church
God's word transcends all boundaries and we at St. Mungo's work to spread His word. Our website is one more way to reach our community. If you live nearby then we would be pleased to see you anytime, and if you are visiting on holiday, our door is always open. The minister, Rev John Urquhart 01968 382116 and congregation extend a warm welcome to all visitors every Sunday morning, and to all our activities.

Pastoral Care
We hope that you are keeping safe and well, as we all face the very real challenges of this coronavirus pandemic.

We are aware that some people are finding this period of isolation really hard– for many different reasons.

Unfortunately, we can't offer pastoral visits in person, but please feel welcome to phone Margaret Webster (in confidence) on 01968 672 347 or 07761 096 472 at any time for a chat, prayer, or to source other help – just like a house visit, but over the phone.

For any situations where you would like to speak to John, our minister, he can be contacted as usual on 01968 382116.

The Seventh Sunday of Easter Service: Ascensiontide - 24 May

The congregation of St. Mungo's welcomes you, as always, to join our worship this and every Sunday, online with us at this time. This act of worship has been prepared to allow us to spend some time with God, knowing that others are sharing in it.

The service was led by Rev John Urquhart, and church members taking parts of the service. prayers, readings, sermon and praise. The full video was once again supported by our dial in audio service, no internet connection required on:


For past services before and during lockdown see below


A special "Heart and Soul 2020" event took place (online) on May 17th 2020. The current crisis meant that the original event, scheduled to have taken place in Princes Street Gardens on that day, has had to be cancelled.

However, a number of features from the event in Princes Street Gardens were transferred into an online format. A recording of the event is now available at

A message from Hope for Penicuik:
Sadly, our prayer boxes cannot be safely used during this present time.
However, we have come up with an alternative. We have opened a dedicated email address, to which your prayers, big and little, should be directed. They will be received by one individual, who will as always anonymise them before sharing them with our usual small prayer group to be prayed over. The email address is: penicuikprayers@gmail.com

You can also take part and join our prayer time on a Sunday morning at 10.00am
Call Neil or Joan on 674276 for the online connection details

Can't get out to get a Trypraying booklet? Don't feel safe taking one from the box? *

Don't worry: here's a solution.



May Prayer Prompts
How do we even begin to pray when confronted with the fears aroused by the covid-19 pandemic and the dangers, both known and unknown, that it represents?
Visit our Prayer Prompts, page for items to add to your daily prayers. You will find personal and local situations highlighted as well as national and international issues. They're all part of God's world, and He cares about them all. [ Prayer Prompts]
Missing your Church? Listen to past Sunday's praise favourites
As we continue ino self isolation to protect ourselves, our loved ones, and everyone around us from this insidious Covid-19 pandemic, as well as the practical things we should all do to minimise spreading the virus, we look to our faith in God and Jesus to help us in our time of need.

At St. Mungo's we have a wealth of recordings of past services and events recalling those times when we were together, celebrating our faith, with prayers, bible readings, hymns of praise and sermons, led by our minister Rev John Urquhart and visiting service leaders.

Check out the list below for a favourite you were at, or a service you missed earlier this year.


Lots more from our services in 2019, 2018, and 2017.

Also check out the News Index to read about other social events like Messy Church. Christmas and summer fayres. The big social nights out; Burn's Night, the amazing Marcus Swietlicki, with Michael Barrett on piano, Beeslack Jazz night, Hope4Penicuik Christmas concert, all with a full story and all the music.

Remember our Sponsored walks, Twinning with Saontalpur, Hats gloves and scarves for others in need, and the foodbank support. More people may find the Foodbank operating out of St. Mungo's hall a God sent lifeline in the months to come.

For ideas of prayer we have the monthly Prayer Prompts that offer ideas to focus your prayers on. While coronavirus seems to have topped everything, you will find that many other aspects of our lives need us to come in prayer to ask for our Father's help for others too.

A cornucopia of delights to raise our spirits and bring light into the darkest corners that this virus attempts to hide. Our strength and faith will lead us into the light at the end of this arduous journey. Enjoy, and Stay Safe.



Pastoral Care
We hope that you are keeping safe and well, as we all face the very real challenges of this coronavirus pandemic.

We are aware that some people are finding this period of isolation really hard– for many different reasons.

Unfortunately, we can't offer pastoral visits in person, but please feel welcome to phone Margaret Webster (in confidence) on 01968 672 347 or 07761 096 472 at any time for a chat, prayer, or to source other help – just like a house visit, but over the phone.

Safeguarding in St. Mungo's
Safeguarding is about preventing harm and abuse. And making a timely and appropriate response if it occurs.

Harm or abuse of children and adults at risk can happen anywhere – even in church communities. The Church of Scotland has a duty to Ensure a Safe Church for All.
This means protecting children and 'adults at risk'.

If you see or hear of any harm or abuse at St. Mungo's contact our Safeguarding Coordinator - Jim Paterson. Full Details
Updated 28 May 2020
Webmaster - Jim Paterson
Penicuik: St. Mungo's Parish Church (Church of Scotland). Scottish Charity No SC005838