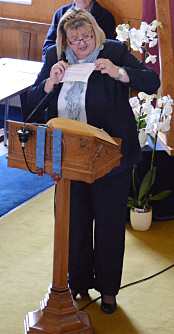 Yvonne Atkins shows us the procedure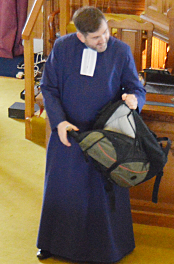 John and his bag for the journey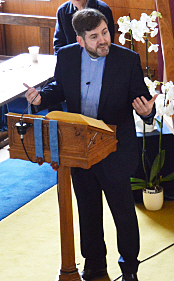 John welcomes us to this House of God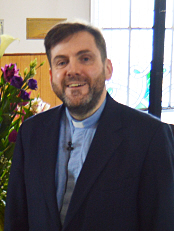 John more relaxed following the vote


New Minister voted a success - Sunday 30 April
The Rev John Urquhart received a vote of 101 for and only 1 against being our next minister at St. Mungo's.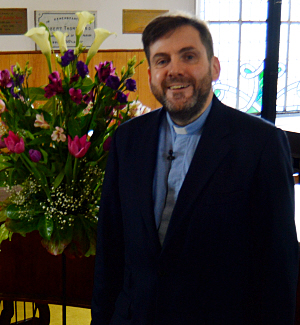 Our Interim Moderator Yvonne Atkins introduced John to us and detailed the procedure we would follow after the service, with all St. Mugo's members present casting their vote either for or against accepting John to be our new minister.

John opened with a call to worship that had us all involved with the responses.

His time with the children was really for us all in the congregation. He took us on a journey, and what we would need for that journey.

In our backpack we would need map, so we could plan our route and know where we were, some water, sunscreen to protect us from the burning suns rays, and a waterproof in case a shower came by. John had also brought an umbrella to keep off the rain. Last but not least, a walking pole, to support us on our journey. When we journey with God we have His support at all times and should rejoice that He will always look after us.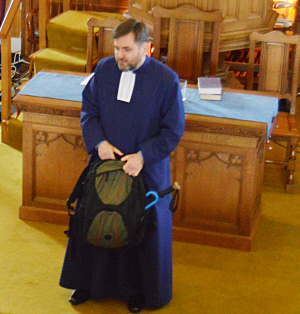 John used the readings from Peter and Luke, read by Christine Jackson and Sandy Robertson, taking the role of Cleopas on the journey from Jerusalem to Emmaus with a friend, after the crucifixion and resurrection. He started as Jesus walked up to and spoke to them. Neither recognised Jesus and were baffled that this stranger knew nothing of what had happened in Jerusalem.

The story unfolds as the conversation continued, and how the deliverer everyone hoped for was also God's servant who suffered for our wrong doing. John continued with a story of Justin, the pagan. Following his search to be a philosopher, and his discovery of God.

His inspiring sermon was followed by his vision of the future for St. Mungo's, taking our congregation on an exciting journey.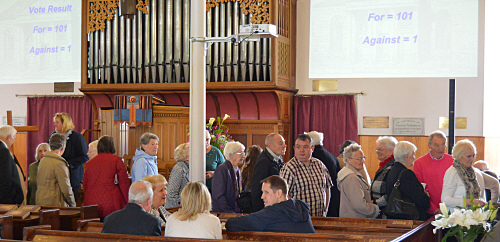 Lining up to cast our votes


The vote was taken after John preached the service, and after the result announcement the members present signed the Call which will be returned to Presbytery.

If you are a member and missed the service, vote and Call, you can still sign the Call either on Sunday 7th or 14th May, or ask your Elder for a mandate to sign which will add to the number of members signing the Call for John to be our next minister.

A new chapter in the life of St. Mungo's church is about to commence.