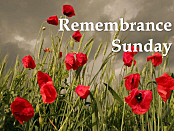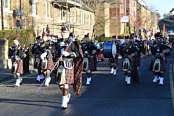 Pipers lead the parade down Kirkhill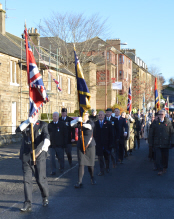 Parade Commander Annell Burns leads the colours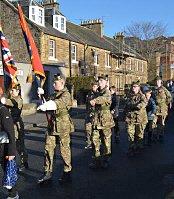 Army Cadets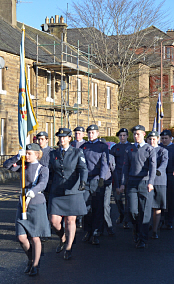 Air Training Corps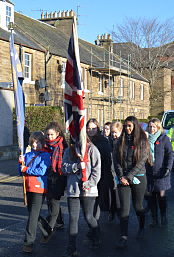 Girlguiding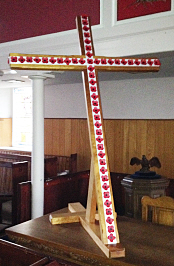 Cross decorated with poppies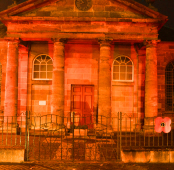 St. Mungo's floodlit Red for Remembrance week
Remembrance Sunday - 12 November 2017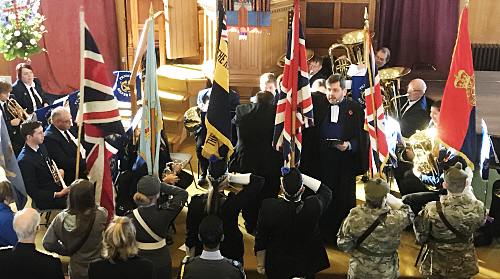 The colours presented at the front of the church


It was a bright sunny, if bitterly cold morning, as the British Legion followed the colour party down Kirkhill to form up outside St. Mungo's for their annual Armistice service. Joining the parade, which was led by Glencorse Pipe Band, were the Army and Air Cadets, Boy Scouts, Girlguiding, and Boys Brigade.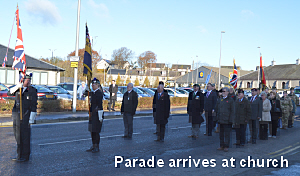 With the parade inside the warm church, together with local dignataries, Sir Robert Clerk, Bt OBE, Lord Lieutenant of Midlothian, representing her majesty the Queen arrived.

The call to worship started our service. The Colours were then marched forward, led by Parade Commander Annell Burns. The Legion, Army Cadets, Air Training Corps, and Boy Scouts approached to the tune of Boys of the Old Brigade, played by the Penicuik Silver Band. The colours were presented to, and accepted by, the Rev John Urquhart at the front of the church congregation. We continued singing hymn 160, Praise, my soul, the King of heaven.

A Prayer of Confession was followed by The Act of Remembrance read by Parade Commander Annell Burns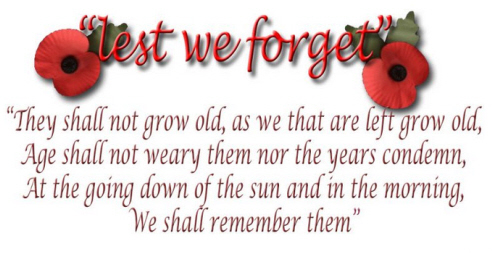 The Silver Band bugler then played the Last Post, followed by the piper from Glencorse Pipe Band playing the lament. This ends poignantly as the piper departs from the church and the congregation hears the playing disappear into the distance. The two minute silence commenced, followed by the bugler playing Reveille.

Once again the congregation joined in the singing of hymn 161, O God, our help in ages past. The Rev John Urquhart then introduced a short video 'The Poppy Story' relating the history and the background of the poppy that we all wear proundly at Remembrance. You can view this video www.youtube.com/watch?v=_PMVDDT4B5c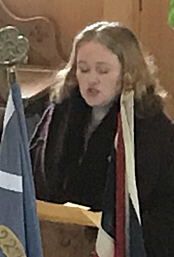 Councillor Debbi McCall representing Penicuik, read the first lesson from the Old Testament, Amos: chapter 5, verses 21-24.

We sang the seafarers hymn 260, 'Eternal Father, strong to save', with the words, 'for those in peril on the sea'.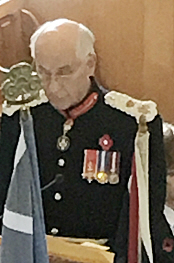 Sir Robert Clerk read the New Testament reading from Matthew, chapter 25, verses 1-13, which was followed by hymn 486, Forgive our sins as we forgive.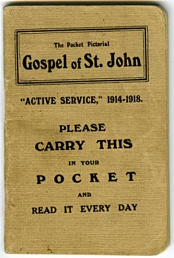 The sermon started with Rev John Urquhart showing a copy of a pocket sized Gospel of St. John, given to every soldier in the First World War, and what it meant to many.

The Silver Band played during the offering, with John Urquhart leading the Prayers of thanksgiving, and the Lord's Prayer which we said together.

During our final hymn 'Our home through every passing age', the colours were returned to the colour bearers, being dipped for the National Anthem. After the benediction, the parade assembled outside the church with the other organisations, pipe and silver bands, for the march to the war memorial in the park, where Sir Robert saluted the 'parade' on arrival.




A short service was led by the Rev John Urquhart with wreaths being laid by Sir Robert Clerk, the Legion and other organisations and individuals. The Legion then marched back to Kirkhill, led by the Pipe Band.


Published - 14 November 2017